'Buddhist' Dating Sites*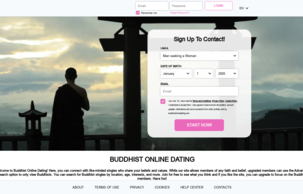 Buddhist Online Dating
Find Buddhist Singles Online
Take advantage of the internal site search system to find like-minded Buddhists interested in online dating as a way to meet others virtually before meeting in the real world. Join for free and explore the options within the site!


Along with Buddhist Passions (the site you are on now), the sites listed below all focus on connecting Buddhist singles with others who practice Buddhism. Each site, regardless of the company running it, shares many of the same characteristics as many of the other sites. So, if you are looking for a great dating site focused on Buddhist singles, then there are a good number here to choose from, so look around to find the one that seems like the best fit for you.
AD

Buddhism Dating
Start searching 1000's of Buddhists in your area today!
Buddhism Dating is designed specifically to help connect single Buddhists seeking other Buddhist singles. If inner harmony and a focus on the deeper values of life are important to you, then this could be the site for you. Join today to meet other like-minded Buddhists.

Meet Buddhist Singles
"Find Love on Your Spiritual Path!"
Meet Buddhist Singles is a great place to meet single Buddhist women and single Buddhist men who are seeking friendship and more. Join and spend some time getting to know other local Buddhist singles.

Buddhist Chat City
"Join Buddhist Chat City If You Seek True Connection"
"Buddhist Chat City is open to all those men and women that have already been enlightened by Buddha and his teachings (or are ready to be so) and wish to make new friends and find a kindred soul that shares their newfound faith, creed, beliefs and spirituality."

Buddhist Personals
Find Buddhists Online Today!
If you are serious about finding someone who shares your Buddhist faith, then Buddhist Personals can help. Browse members worldwide or in your local area. Buddhist Personals allows you to skip the mainstream sites filled with singles who do not share your beliefs.

Buddhist Dating Service
"Find Nirvana with Someone Special!"
Buddhist Dating Service Has Been Designed To Help You Discover Local Buddhist Singles in Your Immediate Area and Connect to Find Love, Dating and Romance!
AD
Dharma Match
"Be Good. Meet Good. Do Good."
Dharma Match is for members who identify as Buddhist, Hindu or Yogi. If you identify as any of these and you are looking for like-minded singles, Dharma Match may be perfect for you.
New Buddhist
A Judgement-Free Buddhist Forum
If you are looking for an easy way to connect with others to discuss your beliefs or just talk about Buddhism, then New Buddhist could be what you are looking for. Founded in 2003, it is one of the oldest Buddhist-centric sites online. While this isn't a 'dating site', feel free to join and begin connecting with others who share your beliefs.
Elite Singles: Buddhist Dating
Find Single Buddhists
EliteSingles is a premier dating site with options to find others who share your beliefs, in this case, Buddhism. If you are looking for a serious dating site filled with features, that also allows you to focus in on finding other Buddhist Singles, then EliteSingles could be perfect for you.
AD
*Sites listed on this page are a combination of ads, affiliate related Sites and general non-partnership related sites that match the theme of Buddhist Passions.